We believe a new logic of options trading software is needed to begin a new era of option traders. You are welcome to join us.
FEATURES
A New Logic

  implements new logic into options analytics to help traders find opportunities which are totally invisible to most option traders.  With emphasis on volatility, statistics and AI, OptionColors is an incredibly powerful options trading platform –  all bundled up into a colorful, intuitive design.  Try it today and experience the OptionColors difference.
AI Technology

is an advanced options trading platform that does half the thinking for you.  Let our AI technology analyze today's market and find you optimized trades over and over again.  Save time and create better trades with OptionColors.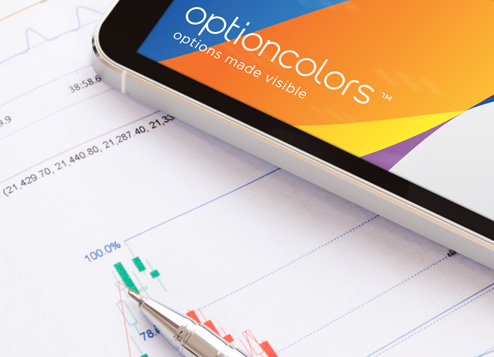 Volatility trading is our passion.  Make it yours!
OPTIONCOLORS CONCEPT

Volatility Matters
Money is made & lost with options from volatility.  OptionColors emphasizes it throughout the entire platform.  We look at vols up, down, sideways, backwards, reversed and inside-out!

Intuitive Design
Design is important to us.  After all, we are options trading artists.  We work hard at OptionColors' interface to make our client user-experience awesome.  We'll accept nothing less.

Affordable Pricing
We want OptionColors to be affordable for the whole world, so we've kept the price as low as possible.   Some folks out there charge twice as much for less volatility data than we charge for our entire platform.

Register Now
Login
BOOK YOUR DEMO NOW >>
Get a Free Demo!
See what OptionColors is all about in a personal demonstration